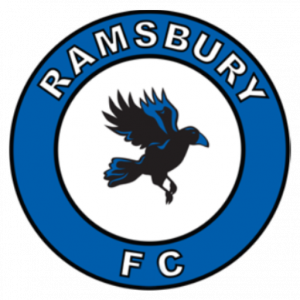 It was an end of an era as the Ramsbury FC U17s ended 10 years of youth football with a friendly match against Ramsbury FC seniors on Fathers Day.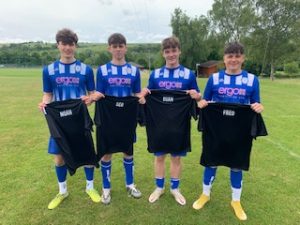 There was a pre-match presentation to the 4 players who have been in the team throughout the 10 years have played for one club only: Noah Greenway, Seb Symon, Euan Mulholland and Freddie Knowles who have played together since U8s – a huge achievement!!!
Following a final team photo the friendly match saw an entertaining game conclude 4-2 with some superb goals that included a first class penalty by George and a superb free kick by Zac that rattled the cross bar! There was a decent crowd and the football played was very even as both sides included senior and U17 players and in the first half included Seb, Zac and Jon Symon all playing on the same side….2 of the 3 Symon boys were much better that the out of date one!!!!!!!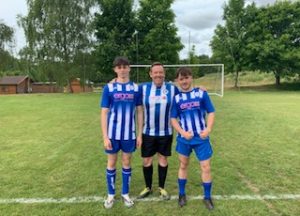 The team awards were presented at the end of the match with Evan winning most improved, Tom winning Supporters and Players Player and Noah winning Managers Player of the year! Well done to all.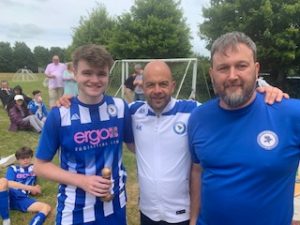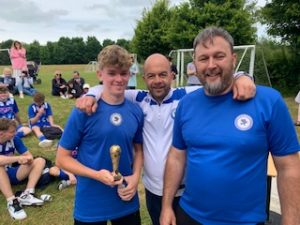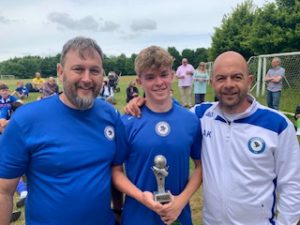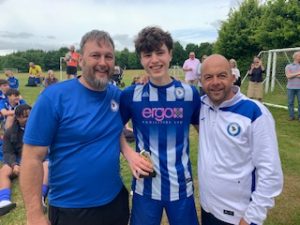 A BBQ and a few drinks followed with some speeches and gifts; and Freddie won a special award from Geoff that I am sure he will treasure for ever!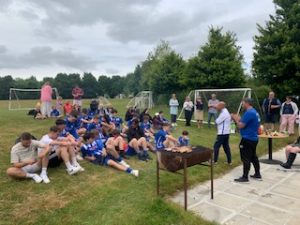 This is an end of an era and the U17s are the first Ramsbury FC U17s team in over 10 years to stay the course, finish the season and have players who have been all the way through from junior football through to the seniors. A lot of credit for this must go to Andy and Geoff as the coaches, but importantly to the players themselves and also to all the parents and guardians and grand parents for their commitment to Ramsbury FC and for supporting the players to play football as it should be played and in the right spirit and in the right way.
It is a real shame the team will fold, but on a positive note many of the players will continue their football and may join the senior squad and/or will hopefully want to help coach the juniors sides or return after college and university to continue to be part of Ramsbury FC. Sean, the senior coach, gave a generous offer to join the senior squad and stated that he was impressed by many of the the U17s and that they had the ability to make the transition. Great stuff!
Finally, it was a great day, a great game of football and a lot of great people to come and support and be involved. All the very best to you all and thank you so much for all the help with the BBQ and cleaning up as it was much appreciated.
Club Sec
Under 17 Team
Practice Times: Saturday
Match Days: Sunday
Coach: Geoff Pratt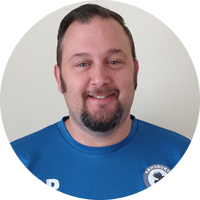 Geoff Pratt
Contact: 07587 154 501
Email: Click here