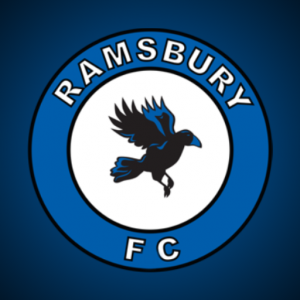 Ramsbury FC U17s win epic Cup Match against Marlborough Town U17s/U18s 
Team: Tom (GK), Owen, Jai (C), Josh, Kieran, Euan, Fred, Noah, George, Byron, Ben P. Subs: Ben W, Evan, Seb, Reece, Henry
A busy weekend for Ramsbury FC that saw a host of games played at the Recreation Ground with a depleted Seniors side narrowly losing 3-2 against Cricklade FC and the U16s outclassing a visiting Shrivenham Town FC U16s team with a classy 9-1 win.
However, the game of the weekend was without doubt the U17s 3-2 cup win against a Marlborough Town FC U17s/U18s side that was packed with incident and goals and in front of a decent crowd.
It was all Ramsbury at first with MYFC on the back foot as Ramsbury pressed high and attacked well using their width and pace to good effect and Ben P going close more than once. Noah and Fred were causing panic on the flanks and George, Euan and Byron winning the first and second balls in midfield. However, it was MYFC who scored first against the run of play and this rocked Ramsbury a bit and after a scrappy 15 minutes or so they were calmed by a superb pass by Evan and equally superb finish by Noah to make it 1-1. It stayed 1-1 until half time.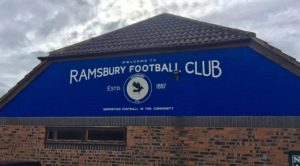 The second half was a bit more feisty as both sides pressed for the advantage and MYFC scored a scrappy goal from a disputed corner given against Ramsbury by the Ref who over-ruled the Linesman. MYFC with a 2-1 advantage took a more defensive stance and were set on just defending and countering with fast breaks. Ramsbury stuck to the game plan and Geoff rotated the subs well and to good effect. Fred who was back on the right wing scored an absolute stunning goal to make it 2-2 with 15 minutes to go and it was game on!
The game became a bit ragged and frenetic with George, Euan and Reece in the thick of the midfield battles and the defence led by Jai as Captain and with Kieran, Josh and Henry resolute in protecting Tom in goal from constant MYFC attacks. It was end to end stuff!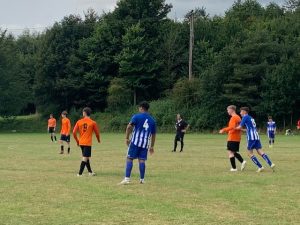 A clear penalty for Ramsbury was not given for a blatant push in the back by the Referee who I can only think was unsighted and Jai who took exception to the decision was shown a yellow card and sin-binned for dissent. This left Ramsbury with 10 players for the last 5 minutes or so and MYFC took advantage of the extra  player and attacked, attacked and attacked as they dominated possession.
But Josh filling in for Jai, along with Kieran, Seb and Henry would not yield and defended brilliantly; and Josh especially so which earned him Player of the Match! Well done Josh.
What happened next was awesome. George, who had the Captain's arm band from Jai, helped the defence clear their lines time and time again and eventually got the ball out to Kieran and onto Reece then up to Fred on the right wing. Fred with the aid of a slightly lucky deflection got past the MYFC defence and struck in a low powerful shot from an acute angle to give the MYFC keeper no chance and make the score 3-2 and earn himself, quite rightly, moment of the match. The whole Ramsbury team went wild as the advantage switched back to the 10 players of Ramsbury with only 2 minutes left on the clock!
Credit to MYFC as they kept going and in the dying seconds hit the crossbar with a great free kick. But it was Ramsbury FC U17s who held on to record a memorable cup win over MYFC and see them progress to the next round.
Well done to the whole team for a never give up display, for playing as team and for giving your all. I was great to see.
Jon, Andy and Geoff
See you all at training on Tuesday!
Under 17 Team
Practice Times: Saturday
Match Days: Sunday
Coach: Geoff Pratt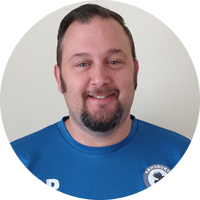 Geoff Pratt
Contact: 07587 154 501
Email: Click here