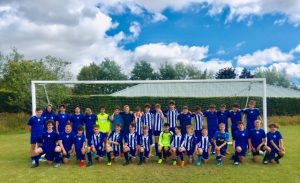 After a tough midweek draw against Pewsey FC U16s it was Ramsbury FC U15s next. The U15s have seen huge success in recent seasons and are well known for their technical ability and excellent passing game and were a really good test for the squad.
Geoff and Andy stuck with the 3-2-4-1 formation that the team like and made a few adjustments with Ben B off ill and no shows by Owen and John (need to let us know boys). The team was Noah in goal, a back three of Josh, Hayden and Joe; Byron and Oli as CDMs and Fred, Jez, Euan and Reece in midfield supporting Ben P up front. Subs were Seb, AJ, Barney, Liam, Kieran.
The first half saw a frenetic start with both teams making mistakes as they tried to settle and it was Ramsbury U16s who scored first after a bit of pinball football saw the ball kindly fall to Fred who miskicked the ball off his shin to see it bounce and sail over the defence and keeper to make it 1-0. They all count Fred!
The goal sharpened up the U15s who played some very good passing football and were only let down in the final third by a lack of composure and by some resolute defending by Josh, Joe and Hayden and a very calm and assured display by Noah in goal. The tempo of the game increased and the U16s started to impose themselves more on the game with some good work by Byron, who was Captain for the first half, and a superb display by Oli. This resulted in the ball being passed out wide to Fred who hit a peach of a volley into the top left hand corner of the goal to make it 2-0.
Geoff made a number of changes with Kieran, AJ and Barney coming on followed by Seb and Liam which provided some fresh legs but also resulted in a more disjointed and less coherent display. There was still too little desire and effort to win the first and second balls by the U16s and they were second best throughout the game as the U15s increased their efforts to score. Liam was hugely energetic and he and Euan both went very close to getting a third goal, but the half ended 2-0.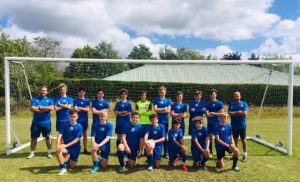 The second half saw more changes with Josh as Captain, Ben P in goal and Noah on the left of midfield and AJ up front. The formation remained the same and the U16s looked to be in control with AJ and Noah going very close to scoring but for some very fine saves made by the U15s keeper. The goal finally came with Fred and AJ combining well and AJ providing a great pass for Noah to score and make it 3-0. However, an element of sloppiness and lack of concentration crept in and the U15s took full advantage with a great through ball setting up Thomas their striker to score and make it 3-1. The goal saw the U15s up their tempo and sustained pressure on the U16s as the U15s looked for another goal were so close with a superb shot that bounced off the cross bar and a header that was only a foot wide from an excellent corner. The U16s shape was restored with solid performances by Joe and Byron as CDMs, real energy from Reece, Kieran and Liam and some much better passing that saw Jez, Barney and Euan get further forward and put pressure on the U15s back four. The sustained pressure led to the best passage of play in the game with excellent defending by Josh out to Kieran who calmly passed to Reece and onto Fred and his superb cross field pass to Noah saw him skin the U15s right back and clip in a fine cross for Fred to head in at the back post and claim his hat trick. A great way to end the game as the whistle blew and the match ended 4-1.
A decent display with Fred winning moment of the match for a great header and hat trick and Oli winning player of the match for his all round excellent play. However, it was a much better team performance overall and all players did their bit.
At the end we took some photos of the squad and Geoff and Andy handed out the new training tops to those who have paid their subs and which you will agree look great!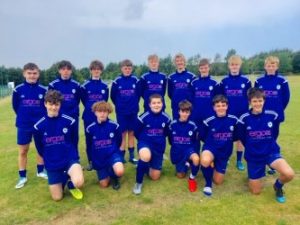 Thanks for your support as always and we maybe have a mid week friendly AWAY v Ardington FC (Wantage) on Wed 26th (next wed) which will probably be our last before the season starts. It would be great to get as many as we can playing. Training still on Sat as well.
Cheers
Jon, Geoff and Andy
Under 15 Team
Practice Times: 10:00-11:30 every Saturday
Match Days: Sundays 10:30 or 12:30
Coach: Mark Savory
Mark Savory
Contact: 07971 002 964
Email: Click Here