Ramsbury FC held their inaugural Festival of Football on Sun 27th June and the Club Annual Awards straight afterwards.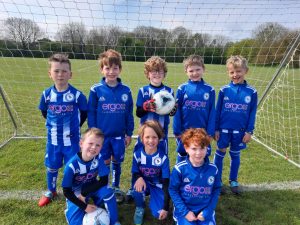 It was an amazing day with all 10 youth teams playing 5 and 6 a side small sided games from U6 to U16 that saw a total of 175 players, 27 teams and 54 matches! The weather was kind with only a couple of light showers and the huge gazebo kindly provided by Ian Smith, Chair of Ramsbury Recreation Ground Committee, provided great cover for the BBQ team led brilliantly by our Treasurer Bryony Beck.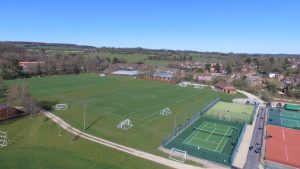 It was great to see all age groups together and also to see all parents / guardians supporting and adhering to social distancing and hygiene requirements to make the event as safe as possible.
A huge thank you to First Water for providing the extra parking; to Seb and Ben P from the U16s for marshalling the cars safely; Liz Watts Photography our local professional photographer for the day and, as always, to our generous Club Sponsor Ergo Plus FM who continue to help the Club develop.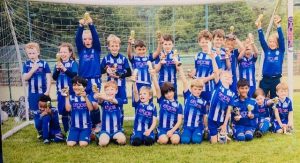 Every player received an end of season trophy and 4 players from each team received individual trophies for Players Player; Managers Player, Most Improved and Player of the Season.
The following received Club Awards:
Carrington Shield: Team of the Year: Ramsbury FC U16s
Dave Rushen Shield: Coach of the Year: Chris Allen U7/U8s
Oli Kimber Trophy: Player of the Year: Lucas Pottinger U12s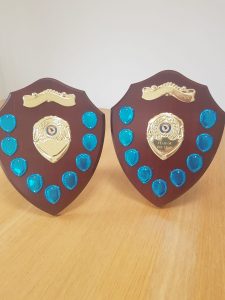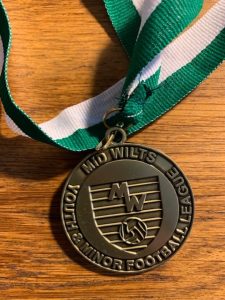 Arthur Carrington, CEO of Ergo Plus FM, kindly presented the Carrington Shield to Geoff Pratt, Andy Knowles and the U16s for an outstanding year where they won the Mid Wilts U16s (Red) Div title, Wilts FA Fair Play Award and remained undefeated all season. Runners up were the U12s who were pipped to 2nd in an extremely competitive U12s Div 2 earning promotion to Div 1 as U13s – another amazing achievement!
We also said a final farewell to club stalwarts Chris and Nicola Allen who depart to live in Cornwall and who have served the Club so well for so long as Treasurer, Secretary and Coach. It was fitting that Chris won Coach of the Year and that Dave Rushen's grandson, James Underwood, a current senior player and Level 2 Coach, could present the trophy on behalf of the Rushen family and Ramsbury FC. Dave Rushen was a superb sportsman, past RFC player, long-time Chair of the Club and a strong supporter of youth football.
The day ended with the award of the prestigious Oli Kimber Trophy for the Club Player of the Year which went deservedly to Lucas Pottinger in the U12s. The OK Trophy is not awarded every year and is only awarded to those that have shown selfless commitment, huge courage and leadership and who are an example to follow. Lucas certainly fits the mantle and his contribution to the U12s success and as an ambassador for Ramsbury FC has been fantastic. Well done!
All teams and their coaches have a well-earned break with registration for next season now open and if completed by 6 Aug 21 will see another concession provided by the Club as a reward for all who have continued to support our amazing grass roots football club!
Jon – Club Sec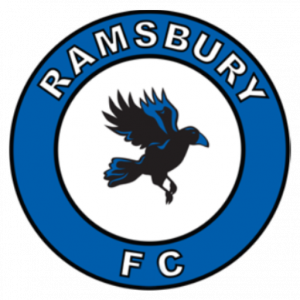 Under 15 Team
Practice Times: 10:00-11:30 every Saturday
Match Days: Sundays 10:30 or 12:30
Coach: TBA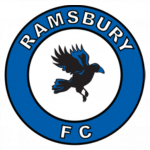 U15  – No Team at Present