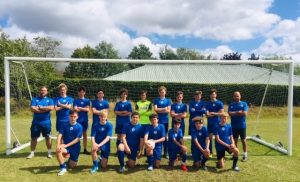 Ramsbury FC U16s defeat Derry Hill FC U16s 5-1 in Wiltshire Cup match.
Team: Ben P, Josh, Kieran, Hayden, Seb, Joe, Oli, George, Noah, Fred (C), Euan. Subs: Reece, Byron, Maya, AJ and Ben W
4-2-3-1 Formation.
A relatively comfortable 5-1 win for Ramsbury FC U16s over a physical and competitive Derry Hill FC U16s side as both teams looked rusty after the enforced lay off due to lock down. It took about 15-20 minutes for both teams to settle down and see the tempo and quality of the game improve with too many errors and loose passing. Ramsbury did improve with some very good periods of passing with Joe and Oli at the centre of breaking down the opposition play and getting the ball to George who ran at the Derry Hill defence and caused panic with his direct approach. This nearly led to two early goals for Ramsbury as both Euan and George went very close to scoring and took an amazing save from the opposition keeper and some last ditch defending to keep the score 0-0. However, Ramsbury maintained the pressure and great work by Euan and Noah led to a great shot by George to make it 1-0 and not long after some solid defending by Josh and Hayden out to Kieran who then released Fred on the right to get a great ball into George to make it 2-0. Ramsbury were in cruise mode.
Geoff made changes to give everyone game time and this required the team to adjust quickly. However they didn't and Derry Hill pressed forward and nearly scored twice if not for a great covering tackle by Seb, a block by Hayden and a very good save by Ben P in goal. The game became a little disjointed and the opposition upped the physicality to try and counter George in midfield. But this was matched by Ramsbury with Joe, Oli and Hayden making a succession of great tackles to regain the momentum; with Noah and Fred on each wing a constant threat. Both went so close to scoring and Fred nearly set up AJ to score with probably his first touch of the game after yet more great play by George! More heroic goalkeeping by the opposition keeper kept it at 2-0 until more sustained pressure by Noah and George saw the ball fall nicely to Noah who shot neatly to make it 3-0. The first half ended 3-0 with Ramsbury in control.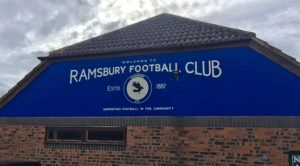 The second half saw all the remaining subs used and Ben P go up front with Noah in goal. As is usual with trying to get everyone game time it is difficult to maintain the momentum with so many changes. Ramsbury lost their shape and were too slow to win first and second balls and the opposition seized the initiative with a number of long balls over the defence. It was very effective and they went close a couple of times before scoring with a 40 yard cross / shot that took Noah by surprise and nestled into the top corner of the goal to make it 3-1.
Ramsbury didn't panic but were slow to adjust and made a number of unforced errors that on another day could have cost them more. Maya stuck to her task and played very well in the centre of midfield and was calm and collected with some wonderfully smart passes and great footwork; Ben W at left back was up against a very feisty winger and she did turn him inside out a few times, but he stuck to his task and defended well. Byron was so tenacious in the CDM role and worked very hard to regain the midfield superiority with his new go-faster haircut; and Reece zipped about on the left and got the ball moving much more quickly to regain the upper hand. Ramsbury slowly but surely started to regain the momentum.
Ben P was so unlucky not to score as he hit the post when through on goal and Joe Bates back after a rest also went close as Ramsbury pushed for a fourth goal. With a few more changes it was Fred back on for AJ who clinched the fourth goal after great work by Kieran to clear out of defence to Reece who got the ball forward to Ben P and with some great footwork got the ball to Fred who turned and shot to make it 4-1. It was a very well worked team goal and much more like the first half.
As the opposition tired Geoff brought George, Euan and Oli back on with and they made all the difference as they provided greater energy and physicality. And it was a great ball out of midfield by Oli to Euan and Ben P that saw them set up George to score his hat trick and make it 5-1 and ensure the win. The game stayed 5-1 and Ramsbury progress to the next round.
Moment of the Match went to George for his third goal and hat trick and Player of the Match went to Kieran for a composed and accomplished performance in defence. Well done.
Well done also to Liam and Owen who came to support the team (well done boys!) and to all parents and guardians who supported the team and braved the damp and cold.
Training on Wednesday in the MUGA at Ramsbury and Saturday on the pitch in Aldbourne as per SPOND.
See you then
Geoff, Andy and Jon
Under 16 Team
Practice Times:
Match Days:
Coach: Geoff Pratt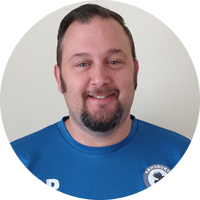 Geoff Pratt
Contact: 07587 154 501
Email: Click here