Ramsbury FC U16s defeat Abbeymeads FC U16s 4-2 as  Team Captain signs off in STYLE!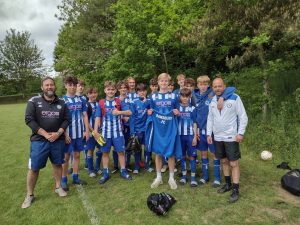 A drizzly Sunday morning saw Ramsbury FC U16s play Abbeymeads FC U16s from the NWYFL Div 2.
With a few new additions to the squad trialling today, this was our Captain Joe Bates last game for us before leaving for the USA, so we all wanted to send him off in style with a good display, As Joe isn't going to be around for the end of season awards, Andy presented Joe with a branded RFC rain jacket to remember us by and we awarded Joe with The Leadership award for outstanding positivity and leadership on and off the pitch.
Starting line up was Tom in goal, back 3 of Kieran, Josh, Owen, CDM's Joe and Oli, Midfield Fred, Byron, Liam and Noah, Ben P as lone striker. Subs, AJ, Emil, Reece, Barney, Jai, Oli B.
From the kickoff it was an end to end first 5 minutes with both teams testing each other's defences, but Ramsbury settled first and started to dominate play and possession, starting to ask questions of the oppositions defence. And it was a quality pass from Oli in midfield that split the Abbey Meads defence straight into Fred's path with a great first touch then lifting it over the keeper and into the net despite 2 defenders trying to clear it off the line, 1-0 Ramsbury. Goal 2 came from Joe picking up the ball in midfield and driving at the opposition, as they backed off Joe took aim and smashed home a thunderbolt into the top left corner from outside the area. With Ramsbury controlling the midfield putting pressure on the Abbey Meads defence, this resulted in a string of corners and from one of these our 3rd goal came, Ben P lurking at the back post struck home a left footed half volley after Abbey Meads, could not clear. With this 3-0 up substitutions were made bringing on Jai, Oli B, Barney Reece, AJ and Emil had come on earlier for the injured Liam.
Second half Abbey Meads came out with a renewed determination to get back into the match and for long periods of the second half it was a 50/50 game, but Abbey Meads got their goal with a good, lofted shot over Tom into the far corner. During the second half one of the Abbey Meads players went down after a innocuous coming together, the player left the field and off to hospital with a suspected dislocated shoulder, I have heard from the Coach Paul and the player has broken his collarbone, so we wish him a speedy recovery from all at Ramsbury u16s. Noah went on a determined run into the left side of the box riding 2 challenges before being fouled, penalty. Kieran stepped up to take it a tucked it away into the left-hand side of the goal and was mobbed by his teammates. 4-1 with 1 minute to go, Abbey Meads went long wining a freekick down by the corner flag, from the freekick they scored with a close-range effort at the near post. Final score 4-2 Ramsbury.
A great result and a tough physical, competitive match; moment of the match goes to Joe for his great goal, and player of the match goes to Reece, tenacious and won everything in the air!!!, well done BIG MAN. We say farewell to Joe and we all wish him well in his returned ventures in the USA…..wear that top with pride!
As always thanks to the parents for their support. Geoff and Andy.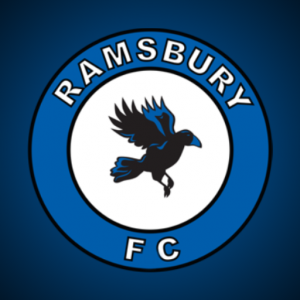 Under 16 Team
Practice Times: Saturdays
Match Days: Sundays
Coach: Mark Savoury
Mark Savoury
Contact: 07971 002 964