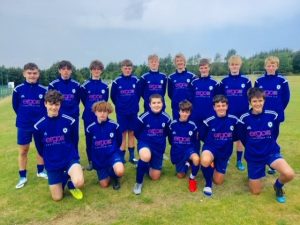 Ramsbury FC U16s won an important away match against a committed and physical Melksham Town FC U15s team who in second place needed to win to have any chance of winning the Division.
In blustery conditions, but on a very good pitch, and in bright sunshine, Ramsbury were nearly caught out with an early counter attack by Melksham and would have been 1-0 up if it were not for a fine save from Ben P in goal. At the other end Fred went ridiculously close and should have scored as Ramsbury and Melksham went toe to toe in a very open and entertaining game.
Noah eventually opened the scoring with a brilliantly worked goal to see Ramsbury go 1-0, but the lead didn't last long as Melksham scored a thundering header from a corner to make it 1-1.
Ramsbury upped the tempo and saw Fred go close twice before Noah crossed for George to slot home a calm and accomplished shot to make it 2-1 and see Ramsbury regain the lead.
Some of the refereeing and linesman decisions were hard to decipher at times and what looked like a great goal by Euan was ruled offside and then a similar decision went against Melksham as both teams had goals cancelled. No complaining though and both teams just got on with it.
The first half was end to end stuff with Joe, Byron and Oli bossing the midfield and George, Noah and Fred a constant threat. Geoff got AJ and Owen into the action and the pressure was all on Melksham and the constant wave of Ramsbury attacks resulted in a second goal for Noah and saw Ramsbury go 3-1 up. It stayed this way until half time.
The second half saw Noah go in goal and Ben P go up front and Geoff make numerous changes with Seb, Barney and Jez coming on. But it was all about the two defences as both teams went toe to toe again with chances at both ends denied by good goal keeping and defending. Josh, Kieran and Hayden had strong games and Joe as Captain and Oli filled in at the back when needed. All subs contributed well but neither team could get a goal and the closest was Fred with a great shot that hit the cross bar.
It stayed 3-1 at the end of the game with no goals in the second half and the only drama was a great goal scored by Fred cancelled out because it hit the referee on the way in and then Fred being sin- binned for the final 10 minutes as he temporarily lost his cool. That said, Ramsbury remain in pole position and the team to beat.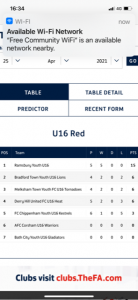 A great game by both teams who both go again as they play the return fixture at Ramsbury next Sunday.
Jon