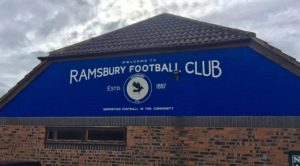 Team: Noah, Hayden, Henry, Josh, Joe(C), Oli, George, Ben W, Fred, AJ, Ben P. Subs: Barney, Seb, Byron, Liam and Jez
A battling display by Ramsbury FC U16s over a tough and organised Melksham FC U16s saw the U16s remain undefeated with a gritty 3-2 home win.
It looked like plain sailing early on as Fred, Ben P and AJ all scored excellent goals in the first half and saw Ramsbury U16s finish the first half 3-0.
But after a re-shuffle at half time and a few substitutions, Ramsbury FC were put on the back foot as Melksham played higher up the pitch and dominated play. Ramsbury U16s struggled to get out of their half and a long range punt saw a well placed header defeat Ben P in goal to make it 3-1.
Ramsbury U16s looked out of sorts and much less organised and some calamitous defending from a Melksham set piece saw Ramsbury concede again to make it 3-2 and the game very much back in the balance.
However, Ramsbury U16s reorganised well and nearly restored a 2 goal advantage as both Noah and then Liam went close. It was end to end stuff with Melksham pressing for an equalizer, but Ramsbury U16s weathered the storm and for the last quarter regained their composure to see the game out and earn a gritty 3-2 win.
Some great defensive performances by Henry, Hayden and Oli and Byron in midfield and the U16s remain undefeated and on top of the Division. A win against Derry Hill FC U16s at home next Sunday will seal the title for Ramsbury U16s and crown them champions! No pressure then!!!
Jon