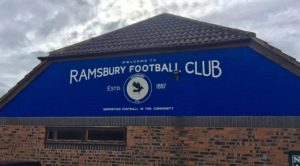 Ramsbury FC lost 6-2 at home to a strong Ashton Keynes FC side from the Premiership. 
An understrength Ramsbury FC team, with many first team regulars missing or injured, had a solid first half as they put up  good scrap and held Ashton Keynes FC 2-2 at half time.
The second half saw some great play by Ramsbury FC, but two quick goals saw the opposition race to a 4-2 lead and some unforced errors in strong winds saw the final score end up as 6-2 and a deserved win for the visitors. Leigh was man of the match for his outstanding running at right back and Proccy in goal was harshly awarded the shirt of shame for the calamitous 5th goal….although he should share it with the defence!
The game was played fairly and with good spirit throughout and the referee had a fine game with both sides needing subs as injuries prevailed. Not as easy game in testing conditions, but the pitch held up well and provided a decent playing surface.
Not the end of season game Ramsbury FC would have wanted, but the squad under Sean Eviil as coach has produced some fine results and beaten a number of premiership teams in the cup competition.
The focus will now be on rest and recuperation and the deserved end of season function on 5th June.
Great effort by all players and Sean as coach and it bodes well for next season!