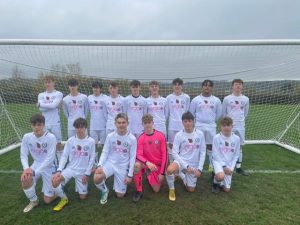 Ramsbury FC U17s win 4-2 away against  Frome United FC U17s!
After losing a very close cup match away to Melksham FC U17s 2-3, Ramsbury FC U17s bounced back with a superb 4-2 away league win against Frome United FC U17s.
Leading 2-1 at half time Ramsbury kept up the pressure in the second half and secured a well deserved 4-2 away win.
A brace of goals from Ollie Boswell and a goal from Ben Pratt and an own goal, claimed by Freddie Knowles as his!, accounted for the Ramsbury goals, but it was the overall excellent team performance that delighted coaches Andy Knowles and Geoff Pratt.
Next up Bath FC U17s at home on Sunday 12 Dec 21 – so fingers crossed the forecast for rain all week is wrong.
Well done to all involved – great result!