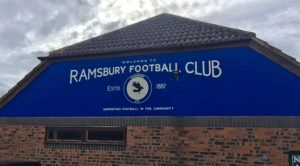 Team: Proccy, Mike, Chris(C), Adam E; Max, Rob, Zac, Will, Charlie, Kav and Ali. Subs: Jonah, Oakley, Arun, Skips and Adam M
For the second week running Ramsbury were the better team and did not get the result they deserved losing 3-2 away to a very average Swindon Centurians side. The ref and the very poor pitch didn't help and it wasn't so much as an uneven pitch but more an allotment that had divots the size of world war one trenches and just as dangerous…..but at least there were no dog turds to remove which is usually the norm!
Ramsbury, before the game started, listened intently to Sean and then trotted onto the pitch and completely ignored everything he said….and then gave a first rate demonstration of how not to control the ball or pass short, quickly and effectively and instead gave the ball away so much the opposition did ask the ref at one point if it was actually Christmas in Ramsbury?
Even with a strong starting eleven we were poor from the outset and it took a while for the team to settle down with too many players opting for the difficult long ball instead of doing what they are good at and playing a quick, short passing game…albeit uite hard on the crap pitch! The highlight in the first 20 minutes was some top defending by Mikey G and Chris who were no match for headers and cleared their lines really well; and Adam E out of position at left back who was faultless and who deservedly won player of the match at the end. But the midfield and the forwards failed to click and it took a top notch corner from Rob on the right to whip in the cross with his left boot straight onto the head of the Ramsbury gazelle that is Chris Roberts (ok…I lied…I said I woudn't use gazelle again as a descriptor for Chris…but hey ho) who perfectly headed into the top corner of the goal for the second week running (this time in the right goal!!!!!) to make it 1-0. This settled the team and Ramsbury for the remainder of the half dominated, but with a couple of lapses still needed Proccy to make some fine saves as Centurians played the long ball game and were dangerous on the break with their two fast forwards.
However, it stayed 1-0 at half time as Ramsbury did not take their chances and the opposition rode their luck. Ali, Rob, Max and Kav were t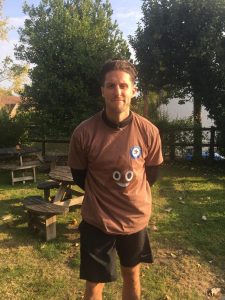 hreats throughout, but Ali missed an absolute sitter that Stevie Wonder with a Ray Charles assist would have slotted in and quite rightly earned him the Shirt of Shame!!!!! (and a free voucher to vision express!!!)
The second half was delayed with some ref dithering and this did us no favours as we were slow out the blocks and were caught napping with an opposition speculative shot to make it 1-1. Ramsbury didn't panic and started to play some good football with Charlie (who was having a shocker and not his usual self), Zac and Will definitely the stronger midfield and Rob and Max excellent on the wings as they kept pressing for another goal. It duly came after a great ball by Ali onto Max who skipped past the opposition centre halves and smashed in a great shot. The opposition lino tried to call offside (he was only one evolutionary step up from plankton!) but the ref gave it to make it 2-1.
This should have been the catalyst to go on and win the game, but it wasn't. Although we pressed for a third we did not keep our discipline and a long punt over our defence onto the opposition lone striker who had just come on, and was full of running with with fresh legs, caught us out and Proccy who had advanced off his line to only watch the ball skid past him into the net to make it 2-2. A real shame as only just before this we had Rob's goal disallowed for another dubious offside call that would have killed off the game, but instead it was game on at 2-2.
Ramsbury remained much the better team and Sean brought on Jonah for Ali and Skips for Kav to add fresh legs to the attack and it had an impact as Ramsbury went close and should have scored if it wasn't for two worldy saves by the Centurians keeper to keep it 2-2. The game was heading for a draw when against the run of play a Centurians corner caught us out as it swung in and an unmarked defender nodded in to make it 3-2. It was a real sucker punch and the opposition regrouped and parked the bus. Ramsbury, again, didn't panic, and instead played probably their best football and on another day a sublime pass onto Max by Zac would have seen him score the equaliser. But another poor lino call that the ref upheld saw Max offside and minutes later Max in on goal again fired just over the bar. If was a frustrating 10 minutes and even Sean throwing on Adam M, Oakley and Arun on to regain the impetus with fresh legs did not work as the opposition frantically hung on and the game petered out to a 3-2 win for the opposition who were relieved when the final whistle blew.
Ramsbury have a great squad and at times have played so well, but we must be more consistent, more composed on the ball and ruthless in front of goal and, importantly, we must manage the game better from the neck up! There is great commitment and effort and the team spirit is excellent.
I t
hink Sean is a bit Ian Holloway(ish) and I know will not have liked losing this one! Lets get to training and get ready for the next match against Chiseldon FC. It will be a tough game.
Jon