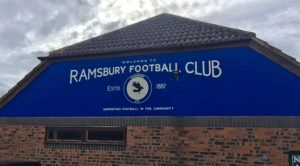 Ramsbury FC recorded a memorable back to back win this against Regent FC with a 12-2 thrashing. It was a thoroughly one-sided game that was only marred by some questionable refereeing that resulted in a very poor 15-20 minutes of poor discipline and equally poor football! However, Ramsbury were without doubt the stronger of the two sides as Sean in his Steve McQueen Barbour jacket and Peaky Blinders cap (a must for each game Sean!) opted again for a strong 4-5-1 formation with Proccy (GK); Leigh, Will (C), James and Adam in defence; Charlie, Pricey and Skips in the middle; Zac on the right, Rob on the left and Ali upfront with Subs: Max, Kav, Jonah and Arun. A really strong team even with Mikey G and Chris the gazelle absent!
It proved to be a tentative first 15 minutes as Ramsbury dominated play on a slow pitch against a Regent side who were happy to defend in numbers and rely on counter-attacking on the break. The 4-5-1 formation worked really well and the midfield 3 of Charlie, Skips and Pricey combined brilliantly to get the ball wide to Rob and Zac on the flanks and it was a great ball to Rob on the left who skinned the Regent right back and sent in an inch perfect cross to Ali for him to smash the ball into the net and make it 1-0 to Ramsbury. This was followed by a perfect Rob corner that was scored by James with a great header into the top left corner to make it 2-0.
Ramsbury continued to dominate play with Adam at left back and Leigh at right back so quick to win first and second balls and make great passes to put the opposition on the back foot. Zac scored the third goal with more excellent work by Charlie and Pricey in the middle doing the gritty stuff that needs to be done and getting a great pass into Zac who from 15 yards calmly slotted home with a little help from the very uneven pitch. At 3-0 Ramsbury were cruising and Regents FC were in panic mode as their Captain thought he was playing who could kick the midfielder the highest and launched Charlie about 5 feet in the air! He got a yellow for it and the resulting free kick saw Zac's effort narrowly go over the opposition cross bar and so nearly made it 4-0!
But then it went a bit Pete Tong as Ramsbury lost the plot and fell into that trap of thinking that what they say or do is more important than the ref! And instead of being disciplined and seizing the initiative and killing the game off early against much weaker opposition, Ramsbury gave foul after foul away and pissed off a ref that was clearly not allowing a physical game and not standing for any back chat or gobbing off. As such, Ramsbury conceded two yellow cards, a goal from one of the numerous free kicks awarded and a penalty and in a maddening 15-20 minute spell that saw the game go from 3-0 to 3-2. It was simply poor discipline, poor play and massively frustrating to watch as Ramsbury were way better than this!!!!!!!!
That said, Charlie, not long after the team had their 'one flew over the cuckoo's nest' mad 15 minute spell, scored an absolute belter of an individual goal from all of 45 yards…..ok more like 25….but it was a good goal and made the score more presentable at 4-2 and put Ramsbury back on the front foot. Game on.
With some sanity restored Ramsbury played some great football with Adam linking up with Rob on the left superbly and the midfield three back to winning first and second balls and pressing the opposition defence and using Zac and Leigh on the right to tee up Ali as the lone striker. And this they duly did for Ali's second goal as another great ball was dispatched wide and then crossed in and Ali showed great discipline and composure to slot it away to make it 5-2 and provide a decent cushion at half time. Just before half time Pricey, who as usual was in the thick of everything in midfield, was sin-binned for encouragement to the team that the ref took exception too and thought disrespectful…..a bit soft in my opinion, but it had been coming as the ref was not one for chat or a tough tackle!
The second half, even without Pricey for the first 5 minutes in the bin, was all Ramsbury as the team were
much more disciplined and showed real quality. A great ball by Zac after dribbling around 3 defenders was cut across to Leigh who deservedly smashed it in to claim a goal and make it 6-2.
Zac then got his second goal after great footwork by Skips got the ball to Ali to set up Zac to make it 7-2. It was turning into a rout and Sean took off Charlie as a precaution and replaced him with Jonah who with fresh legs kept up the pressure. The pressure continued as Ali was brought down in the area after great work by Jonah and Zac and Ali stepped up to deservedly score his hat trick from the penalty spot to make it 8-2. Kav then replaced Ali and Max came on for Pricey and both terrorised the opposition with pace and power with Max setting up Kav to score and make it 9-2. Shortly after it was Skips and Zac combining in midfield that got the ball to Rob who sent in another great cross for Kav to get his second and make it 10-2 and see the opposition desperate for the ref to end the game! But Ramsbury were relentless and Rob even had the cheek to score direct from a corner to make it 11-2 and see him get his goal after his 3 assists; and Max should have made it 12-2 with one of a number of mazy runs and shots that deserved a goal. But the last action was an unselfish act by Zac who instead of scoring his hat trick when one on one with the keeper, cheekily clipped a pass to Neymar who smashed it in to make it 12-2.  It was a nice touch as just before that Neymar had been so close to scoring but for a top save from the Regents keeper to deny him.
The ref finally blew and the game ended 12-2 and see a second half with 7 unanswered goals and a thoroughly disciplined display. Will as Captain for the day was excellent as ever and solid at the back with James who yet again showed his worth and protect Proccy who was a safe set of hands throughout. It was a great second half and so good that the mad 15 minutes of the first half was forgotten by Sean as he did not award the Shirt of Shame and after deliberation in the Pub awarded Man of the Match to Ali for his hat trick and all round display – well done Ali!
See you all on Tuesday at training as we have a much tougher game next Saturday v Cricklade FC at home.
Cheers
Jon