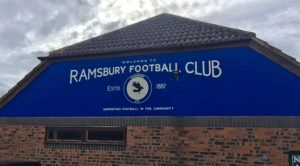 Ramsbury FC lose 3-2 in close game away to league leaders Intel FC!
After 3 wins in a row, Sean aka 'Peaky Blinders' the Gaffer kept the same team that comfortably won 5-2 against Cricklade last week; other than a rare guest appearance in goal by the lesser spotted Freddie….:rarer than a sighting of a Yangtse River Dolphin!
Team: Freddie, Mike, Chris(C), James, Ads, Charlie, Pricey, Will, Rob, Jonah, Ali. Subs: Skips, Adam, Zac, Bart and Arran.
The first half was a combative affair as Intel's 4-3-3 shape and physicality countered Ramsbury's 4-5-1 formation by playing through the middle to their big centre forward and the two pacey lads either side of him. Ramsbury had much more of the ball and Pricey, Will and Charlie dominated the midfield. But Ramsbury failed to capitalise on the extra width they had with Rob on the left and Jonah on the right and also failed to get a quality pass in the final third that resulted in stalemate after 25 minutes.
It took a set piece to break the dead lock as Intel crossed in a very good corner that was initially saved but then unluckily spilled into the path of an Intel player who smashed it into the net to make it 1-0. This was very much against the run of play and to add salt into the wound Will picked up a soft yellow card for a late tackle shortly after that was his first one and not that bad. The Ref made a poor decision and Intel of course milked it!
Ramsbury didn't panic and upped the tempo playing some great quick passes to break down the Intel midfield and back four and it was a superb cross by one eyed Mike, who was so far forward that his nose bled, that found Charlie in the box to turn in a great poachers goal to make it 1-1. After a lot of moaning by Intel, they are great at moaning, the game got going again and it was all Ramsbury with Will and Pricey bossing the midfield and Charlie able to roam and get the ball out wide to Rob and Jonah or up to Ali as the lone striker. Ramsbury went close with Charlie hitting the crossbar and Ali and Jonah both had chances that were saved.
A blatant shove in the area by an Intel defender gave the Ref no option but to award a pen and Charlie stepped up to slot in and make it 2-1.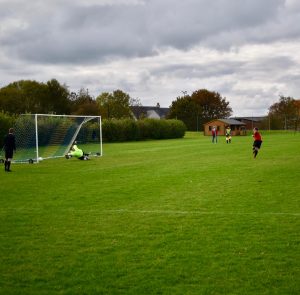 It was no more than Ramsbury deserved as they were in control and the half finished 2-1. Another soft yellow given to Jonah towards the end of the half marred a decent 45 mins.
The second half saw Ramsbury dominate play and press Intel with the majority of the play in the opposition half. Intel remained dangerous on the break and at set pieces and it was another corner that was not dealt with that saw Intel score their second to make it 2-2. It was a shame as it was again very much against the run of play and Ramsbury had dominated for about 20 minutes. This lifted Intel and they started to play.
The game got a bit ragged as Ramsbury pressed for a third, but a lack of composure or quality passes in the final third let them down. Intel had changed formation to a 4-5-1 and looked happy to see out a draw with some dogged defending. But some calamity defending and keeping by Ramsbury gifted Intel a third goal out of nothing to make it 3-2. It was hugely frustrating as Ramsbury had dominated up until this point and were much the better team. Ali came off for a well earned rest for Bart and Zac came on for Jonah and both were full of pace and tested the Intel defence and went so close to getting an equalizer.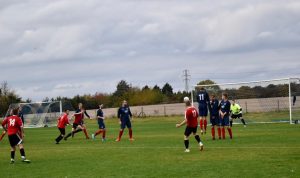 Will then smashed a great shot against the post and it started to look like it wasn't going to be Ramsbury's day!
Sean brought on Adam, Arran and Skips as fresh legs to regain the momentum, but Intel closed up shop and hung on to secure a 3-2 win. They could have made it 4-2 with a good break that needed some last ditch tackles by Mike and James to save the day. Another poor decision to award a free kick on the edge of the area was met with a an expletive to the Ref by James who was then yellow carded and sin binned for the last minute…..it was not acceptable language and just utter frustration as this was a match that Ramsbury should and could have won!!!!
A disappointing result and more so as the performance deserved more and the score flattered the opposition who were poor but who managed the game better than we did. Man of the Match went to Charlie for his two goals and a box to box performance and shirt of shame went to Freddie who I am sure will wear the famous shirt with a grin and a pint when we see him next and when Lord Attenborough declares that he off the rarely seen species list! Chin up Freddie!!!!
Another tough away match against Down Ampney FC that will need us all to be at our best. See you all at Training on Tuesday.
Jon