Ramsbury FC get their first win of the season with a deserved 1-0 win over Chiseldon FC.
Sean opted for a 4-5-1 formation this week after the disappointing 3-2 loss last week and it proved to be a good call against a very quick Chiseldon side. Pricey volunteered to be in goal with no Geoff or Proccy (Geoff, Proccy….he is the only keeper to keep a clean sheet and he is a central midfielder!!!…just saying); and had in front of him a back four of Mikey G, Chris (C), James and Ads; with Leigh, Skips and Zac in central midfield, Max wide right and Rob wide left and Kav as the lone striker. Subs were Ali, Adam M, Lee and Arun. A decent line up against a team that put 6 past us last season.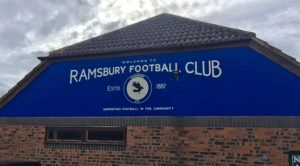 From the outset Ramsbury were calm, organised and up for it. Pricey, never one to be quiet at the best of times, was reassuringly very vocal and even with the sun in his eyes was like a coiled spring ready to pounce on potential dangers whilst ensuring he kept the defence in check – utterly superb! Pricey and the defence from the kick off were awesome. They worked so well as a unit with Mikey G as right back murdering the opposition left wing and winning all headers, first and second balls and totally dominating on the right; Chris was his usual 'gazelle-like' self and was impeccable in timing headers and clearances to perfection and alongside James, who grew in stature as the game went on, formed an awesome centre half pairing that contained the Chiseldon front two who between them scored all six goals against us last season. As the game went on James grew in confidence and as the game progressed he and Chris hardly put a foot or header wrong and gave no quarters. Adam as left back is without doubt a natural modern full back with pace, tenacity and grit and great timing. He was again outstanding at left back and I can't see to many in he squad able to compete for this spot on the team. In sum, the back four and Pricey won this game through being disciplined, committing to winning the ball and giving the opposition no room to breathe never mind move and dis what they needed to do efficiently and effectively – a brilliant performance! Anyone of them could have had Man of the Match, but it went to Pricey for his inspired performance in goal, commitment to the team and outright noise generation……..absolutely awesome!
The first half was predominantly Ramsbury pressing well and forcing the opposition back and the midfield three worked really hard in covering the space and in getting the ball out to the wide areas. The opposition were no pushovers and scrapped and hacked and fought as best they could, but they were kept on the back foot by Ramsbury's ability to win the ball, better distribution to the flanks and keeping their shape. It was great to see and Leigh (Welsh Joe Wicks) put in a huge shift alongside Zac and Skips in the middle and it was his challenge and ball to Zac that saw him slice through the opposition defence to Kav who crossed for Skips to poke in his shot and make it 1-0. It wasn't the prettiest goal or the cleanest strike by Skips and a bit of a scuff by Kav to him, but they all count and it was only what Ramsbury deserved.
Chiseldon did have the goal in the net shortly after, but it was clearly offside and disallowed. This prompted Ramsbury to up the tempo and start playing some top end football and Rob and Zac both went so close with superb shots and Kav and Leigh followed suit with shots and to be honest how it stayed 1-0 I have no idea! The opposition resorted to Sunday league tactics with sly challenges, constant fouls and questioning every ref call and trying to get under our skin, which was disappointing but at times vindicated as the ref did make some very suspect calls….and should definitely book a trip to Specsavers!!!!!!
Tempers boiled over as the frustration grew and Kav was lucky to only get a yellow card after lashing out and kicking the opposition centre half lunatic who had already had about 2 or 3 hacks at Kav. Despite the opposition calls for a red card the ref saw sense and Kav stayed on the pitch. Ramsbury remained the better team and the ref soon after called half time with the score finely balanced at 1-0. However, Kav did get the Shirt of Shame, just behind Ali for another open goal miss later on, and Kav now owes Sean and the team a photo as we make do with another fine one of Ali!!!!!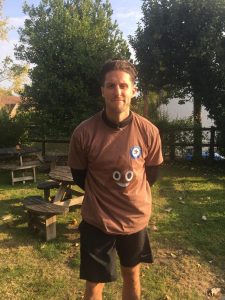 The team stayed the same for the second half and continued to press and contain really well with Chiseldon trying to up the pace and bringing on subs with fresh legs. But Ramsbury stayed focussed and organised and both Rob and Max went close to getting a second as Ramsbury maintained the pressure. The opposition resorted to nonsense and saw some scuffling with the crowd that the ref sorted out and threw themselves about in the Ramsbury penalty area as if they were trying out for strictly; it was pathetic really and the ref had none of it. Sean brought on Ali for Kav and he made an instant impact and his link up play with Zac and Max deserved at least two goals. But the no shows at training have taken their toll as Ali clear on goal blazed over the bar when he would have been a cert to score! That said credit where credit is due, he made a real difference and his ability to hold up play and win the ball was excellent. More training big fella!!!
With time ticking away Sean brought on Lee to replace Leigh as the Welsh Joe Wicks deserved a well earned rest and it was an inspired choice by the Cloughy of the Kennet as Lee sat in the space between the defence and midfield and did the unglamorous stuff really well in winning the ball, protecting the defence and being a nuisance. It was what was needed and along with Adam M coming on for a five minute cameo served to see Ramsbury see out the game and claim an excellent 1-0 win.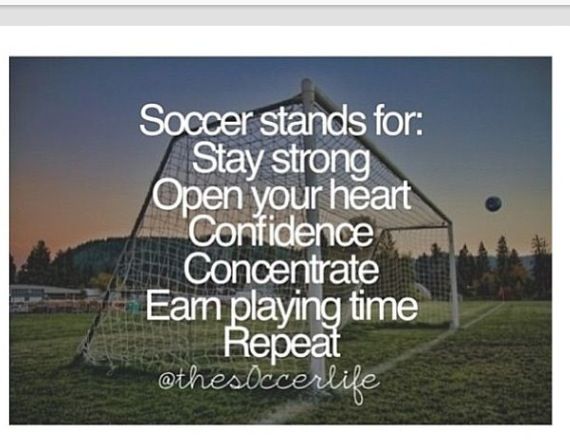 What was inspiring today was that this was a proper team win. A result that was not decided solely by Skips great goal, but by courage, belief, discipline and focus of the whole team and a team that has the ability to do this every week.
See all of you that can make training on Tuesday to prep for next match away against Regents FC; and my final comment goes to Macca, Charlie and the boys who came to support the team and Neymar who as a sub didn't get on and didn't complain but came and had a celebratory beer with the team in the Crown. Top job boys.
Jon