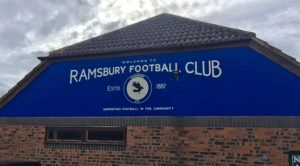 Ramsbury FC lose 2-1 away to Down Ampney FC in close game!
Team: Freddie, Mike, Chris(C), Lee, Rob, Arran, Pricey, Charlie, Zac, Cam, Ali. Subs: Bart, Kav, Skips, Lee and A N Other
A tough loss today in a poor match by Ramsbury's standards and the whole team were left pretty deflated. It is easy to criticise from the side line, so I won't. Instead I will just provide a short report as the whole team know we are a much better side than the performance today and that we will come back stronger.
Ramsbury dominated the game and spent at least 70% of the match in the opposition half. Sean 'Peaky Blinders' the Gaffer opted for a 3-5-2 attacking option that relied on the two wing backs being disciplined and reverting to a back 5 when defending. Easy to say but hard to execute if the team does not maintain discipline and shape and even harder when playing in strong winds and on a heavy pitch. As such, it was Down Ampney who, against the run of play, scored with a well taken break away goal to make it 1-0 inside the first 10 minutes.
The goal actually settled Ramsbury who played a high press and quick attacking football with Zac, Charlie and Pricey winning the midfield battle. What was lacking was quality passing or finishing in the final third, better control and composure as Ramsbury could and should have scored at least 2 or 3 goals. The opposition, however, remained dangerous on the break and should have scored as they got behind the back 3 and when one on one with Freddie failed to convert. Credit to Freddie for not coming out and narrowing the angle and making the striker miss a good opportunity to score.
The Ramsbury goal finally came as Arran and Ali combined really well on the right to cross the ball to Cam to calmly head in and make it 1-1. Mikey G was replaced with a pulled hamstring (get well soon Mike) and saw Jonah come on to play out of position as the right of a back 3. The equalizer put the opposition on the back foot and it remained all Ramsbury, but a combination of not hitting the target and some good goal keeping and defending meant it stayed 1-1 at half time.
Ramsbury dominated the first 10 minutes of the second half but could not convert a number of good chances to take the lead with Rob, Charlie, Arran, Zac and Ali all going close and the opposition keeper playing out of his skin and making a string of top class saves!
Instead, Down Ampney scored with an opportune individual goal as the Ramsbury defence did not manage to close down the opposition winger who weaved in behind Jonah to score beyond Freddie to make it 2-1.
Again, it was against the run of play and a tough goal to concede as the defence had not been troubled. With 20 minutes to go Down Ampney parked the bus and as Ramsbury struggled to get past a stubborn midfield and defence they were happy to hoof it out or upfield and continue to frustrate Ramsbury. The tactic worked a bit too well as Ramsbury tried hard to get back on terms but to no avail.
Sean brought on the remaining subs to gain the momentum for the last 15 minutes and even though Ramsbury went so close to equalizing, Down Ampney held on to secure all three points with a scrappy 2-1 win.
It was a gutting loss as the points were there to be had and Ramsbury could just not convert in the final third.
Home game next week against Spectrum who are definitely beatable, but it will need a really good team effort to secure the win. You all know we can do this!
See you all at training
Jon