Ramsbury FC are through to the quarter finals of the Cup after an epic 3-2 win over Premiership side Wheatsheaf Stratton!
Ramsbury had a few players missing for the cup match, but were able to still field a strong side. Sean stuck with a 3-5-2 formation with Freddie in goal; Mike G, Chris (Capt) and Dan O as the back three, Leigh and Max as the wing backs and a middle three of Zac, Stoner and Adam with Macca and Sam up front. Again, Sean's 'Eviil' coaching genius resulted in Ramsbury playing on the front foot and Zac grabbing an early goal to make it 1-0 and nearly getting a spectacular second shortly after but only hitting the post. Wheatsheaf were reeling and 25 minutes into the game Ramsbury scored a second through Macca who's shot, after superb play by Max and Adam, was parried by the opposition keeper and fell kindly for him to smash it into the back of the net. Macca should have had a second straight after when clear through on goal, but a rush of blood to the head saw him unfortunately smash his shot against the bar when a simple tap in would have seen the score 3-0. This rightly caused Sean to hop and down like a demented goblin, swear obscenities that would have made Gandalf the Grey blush and deservedly earned Macca the shirt of shame – pink suits you big boy!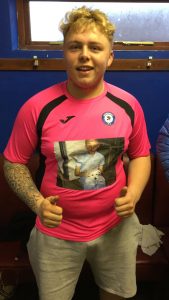 Macca's miss woke up a sluggish Wheatsheaf side who started playing some good football. This unsettled Ramsbury and for 10 minutes they were on the back foot and made too many simple mistakes and lost their shape and discipline. It let the opposition in and they scored a well constructed goal to make it 2-1. The game became a bit ragged as the opposition resorted to constant late and high tackles and the referee struggled to control the game or the abuse from the opposition coaching team. Ramsbury kept their cool and Max was a constant threat down the left side and he and Adam combined well with Sam and Macca to keep the pressure on the opposition and were so close to making it 3-1. Ramsbury had a couple more close chances but Wheatsheaf hung on to keep it 2-1 at half time.
In the second half Ramsbury were quicker out the blocks than Ali on a certain promise on a Saturday night out in Old Town! Simple, quick, accurate and direct action (very unlike Ali) saw superb passing by Leigh to Adam and out to Max and onto Macca and then Sam that led to a sublime Ramsbury third goal as Sam simply slotted the ball past the Wheatsheaf keeper. It was a great goal and made it 3-1.
The opposition lost their discipline and the plot and resorted to arguing and abusing the referee for every decision which ended with the opposition coach being quite rightly given a straight Red card for constant abuse and asked to leave the ground. It was a disgrace really and the young referee really struggled to control the game and how the opposition didn't get any yellow cards was beyond me. With deteriorating conditions and strong winds the game turned into a battle of attrition with studs flying and a series of free kicks by both sides. Another great passage of play by Ramsbury saw a certain goal for Macca incredulously ruled offside by the opposition lino, which only inflamed a feisty match! Stoner came off and Neymar came on for the last 15 minutes and shortly after Macca was off injured and on came Ash. The game continued to be very ragged with stop-start football as the fouls mounted up and eventually a definite yellow for the opposition. Ramsbury gave away their fair share of silly fouls and a speculative free kick led to Wheat sheaf getting their second as the wind and flight of the ball deceived Freddie to make it 3-2 with 5 minutes to go. It was back to the wall time and Max, Leigh, Neymar and Adam and Zac all supported the back three leaving Ash up front on his own as the solitary striker. It was a tough and nervy battle to the very end and it wasn't pretty. The opposition came close to getting a third, but Ramsbury held strong to win an epic battle of wills and finally win the game 3-2.
It was great resilience by all who played today and great to See Dan O back after being ill; good to have Neymar and Ash play and great to see Ali and the boys supporting the team from the side lines! Man of the match was a close run thing with Stoner, Leigh and Max putting in great shifts, but it went to Max this week for his relentless attacking play, superb tackling and support play. Well done Max.
Training is on Tuesday 6.30-8pm and get along to it you slackers – no excuses!
Next match at Home v Moredon FC with 2pm kick off – lets have a strong team out for this one!
Well done boys
Jon