Ramsbury Senior team continued their good form into 2020 with a hard fought 3-1 home win over an ill disciplined and bad tempered Cricklade FC side who ended the game with 8 men! Ramsbury missing a number of seasoned players, were excellent in their shape and structure, attitude and style of play and great to see Steeno back in the side after a prolonged serious injury.
A calmly taken Zac penalty after a blatant hand ball saw Ramsbury go 1-0 up and then 2-0 up quickly after as Zac, Adam and Harry combined to see Adam assist Harry in getting his second goal of the season. The Ramsbury high press and use of Harry and Max as fast running wing backs worked really well going forward and kept Cricklade very much on the back foot. This was needed as Ali had to go off injured half way through the first half with a groin strain……apparently due to very little action over the holiday period!
The forced change allowed Macca to go up front with Adam and Will to sit in midfield alongside Zac and Leigh with the back three of Chris (Capt), Mike G and Steeno in front of Freddie in goal. It worked really well and Cricklade were overly frustrated and very lucky not to have 2 or three players booked or sent off as they constantly argued with the ref.
Cricklade fought back, however, and for 10-15 minutes were the better side as they took a more direct approach and forced their way through the middle with long balls over the defence. But some excellent defensive headers and comfortable saves by Freddie meant that the score deservedly remained 2-0 to Ramsbury at half time.
Ramsbury had another poor 10 minutes after the break as Cricklade dominated play and went close a couple of times from set pieces and long balls over the defence. But their indiscipline finally cost them as they had a player sent off for a late tackle and then abusive language to the ref who had had enough and produced two yellow cards in quick succession and leave Cricklade with 10 men. Cricklade actually played better with 10 men and kept their direct approach, but did leave them vulnerable at the back. Ramsbury did not take advantage of this and Macca, Zac and Adam all scuffed clear goal scoring opportunities that should have sealed the game and all were definitely Shirt of Shame contenders!!!
Max on the left wing was terrorising the Cricklade right back and who must have been sick of seeing him fly past him on at least 6 or 7 occasions. Will was also having a blinder of a game in central midfield, alongside Macca and Leigh, as Zac went up front with Adam and Macca wisely sat in the hole in front of the back 3 to give excellent cover. But, again, Ramsbury didn't take advantage and there was too much calamity football being played as players just shovelled the ball forward without thinking and usually to a Cricklade player. Zac had another chance to get a third goal as a great ball by Mike G saw him ghost past 3 or 4 Cricklade players but to then only blast over the bar; Adam also had another clear chance that the keeper some how saved and it made the 2-0 lead look a little fragile. Ramsbury finally cracked as Cricklade took a long throw and managed to nod the ball over the Ramsbury defence and Freddie to make it 2-1 with 2-3 minutes to go.  It was squeaky bum time!
The last 2-3 minutes were actioned packed and not for the feint hearted as Cricklade smelled blood and went for the equaliser. They pushed everyone up and went close, but so did Ramsbury on the counter and after another mele and a sin bin yellow for another Cricklade player and then their Captain for dissent, which left them with 8 men on the field! This left Ramsbury to simply punt a long ball up to Adam who went straight through to score into an empty goal and make it 3-1. The game ended with the kick off and Ramsbury got a deserved 3-1 win!
Finally, great credit to Sean for getting the shape and structure right and to the referee for not abandoning the game as Cricklade FC were disgraceful. We hope Ali recovers soon and hope to see you all at training on Tuesday. Man of the Match went to Will in midfield and Zac got the Shirt of Shame for a couple of clear misses!!!! Pink photo to follow. Enjoy your Sunday boys – fully earned!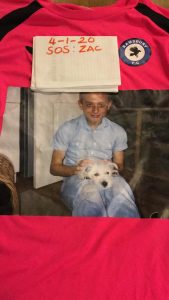 Jon
PS We miss Darvs….Mrs Darvs….send him back…..but without the dog!