Ramsbury FC U15s took time out from their usual Saturday training with a trip to see Reading FC play against Cardiff FC at the Madejski Stadium in the Fourth Round of the FA Cup. It was an eventful game with two goals inside 10 minutes and a sending off in the second half as the game ended 1-1 and will see the teams replay the match in Cardiff.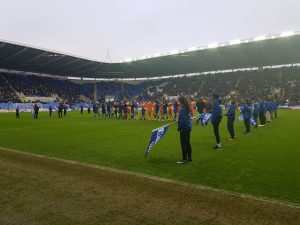 Ramsbury FC U15s were the guard of honour on the pitch for both teams as they lined up before kick off and then took penalties at half time. It was great to see Ramsbury FC players on the pitch and there were some excellent penalties scored with all players taking a turn in goal.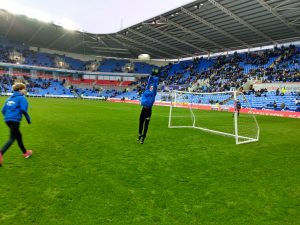 Maya was definitely unsure of the Reading FC mascot…..where as Alex and Geoff looke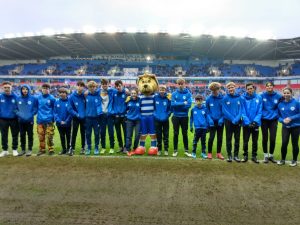 d very much like they were old friends!
What everyone was sure of was that the team had excellent seats and a great view of all the players…..and also that Hayden has the brightest cargo trousers in the Madejski!!!!!!!!
33 of us went in the end with Scott not wanting to make the trip (you missed out Scott!) and poor John having to miss the game due to breaking his arm……get well soon John!
It was great to have Oli Morris and his dad join us and Kira and her dad and brother and we even had a MYFC player wearing Ramsbury kit……but we won't let MYFC know Josh……honest!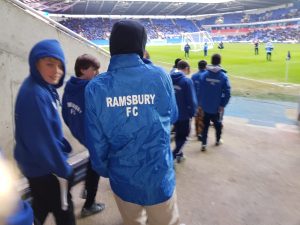 Also, great to have Arthur, our Club sponsor, and of course AJ's Dad along with a few more of the family and always more the merrier!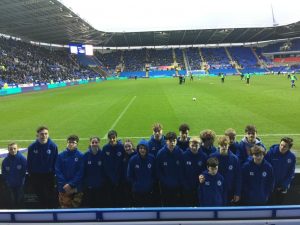 It was a great day out and very proud of how all players behaved and represented Ramsbury Football Club and a huge thank you as always to all parents, Andy and Geoff for all your help.
Jon