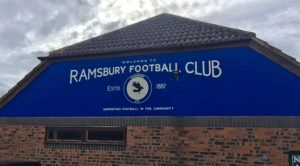 Ramsbury FC win third game in a row with a convincing 5-2 win over Cricklade FC!
Team: Proccy, Mike, James, Chris (C), Ads, Char, Pricey, Will, Rob, Jonah and Ali. Subs: Arun, Kav and Barty
Ramsbury FC record 17 goals in their last three games and another win sees them joint 3rd in Swindon District League Division 1. It certainly proves that the squad has real depth as Sean 'the Gaffer' was able to field yet another strong team even with a number of regulars missing and unlike last season didn't have to resort to him or lino Jon having to get their boots dirty and spend the next month cashing in their Saga sponsored physio treatment for the elderly coupons!
The first half was a blur…..mainly for Cricklade….but more so for me as I was absent elsewhere…..and saw Ramsbury smash in 4 unanswered goals in a display of total football that made the Villa v Liverpool game look like a close run thing or as devastating as Germany v Brazil when the latter thought they were at a beach volley game and forgot it was football they were playing……Ramsbury were that good and Cricklade were that bad!!!! Gaffer Sean was doing flip flaps…..ok…..he shuffled excitedly from side to side and the Ramsbury crowd of 6…..COVID restricted….but an increase on last week…..went wild! It was a thing to behold and Ramsbury were on it! Proccy was Bert Trautman reincarnated (look him up boys as he was a legend!) and the defence stalwart with Mikey G, big Chris, James and Ads the beast defending as if their livers depended on it and the midfield 5….like the famous five and a force of nature only there to make sure they feed the beast of a goal scoring machine that is Ali! Truly awesome!
Don't ask me who scored or assisted or who did what as I wasn't there and getting a volunteer to do the write up is harder than Sean trying to lace his boots or Adam not seeing red mist or Ramsbury not getting a yellow card……nice one Roberts as you'll be billing yourself this week then? But that means very little as man of the moment Ali 'the man' Mair scored a sublime hat trick in successive weeks and took his tally to probably more than he scored during the whole of last season and probably the first time any Ramsbury player has done this ever…..a magnificent achievement and deservedly earned him man of the match! It wasn't all him (obviously) and Jonah and Rob with superb link up play were contributors and so was Neymar as super sub with assists. The midfield trio of Charlie and Pricey and Will were at the heart of everything and great to see Charlie and Pricey having more beers for the pub and not having to cough up to Roberts this week!!!
Shirt of shame however went to Ramsbury's own version of Gaza…..who like the Northern footballing genius…..was brilliant and shambolic in equal measures! Chazza…..although better looking and less of a drinkers nose…..was both brilliant and chaotic with passing that bordered on artistic or insane or the simple question of…..as that there boy been at the Thatchers? He was all of that today but earned the Shirt of Shame for a shit pass that led to a Cricklade goal….the gaffers words not mine Chazza…..and I know you will be up for it as always next week….the game that is big boy…..not the shirt of shame!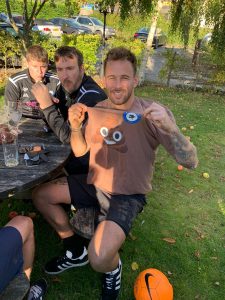 Not to be outdone and tackling like a clanger on speed…..was James in defence who was guilty of giving away a penalty that Cricklade converted! However, he was wrongly convicted in many eyes as it was a clean tackle and he got the ball…….but you know at this level that means nothing!!!! You are better than that James and don't be getting that their red mist like 'the beast' Ads or 'the gazelle…masquerading as a rhino' Roberts as they are proper badduns…..stick to the big shouts and kicks into row Z big boy and at  least Roberts won't be sending you a bill!!!
And lastly, our boy Jonah….who I am informed is really a right back….which is really good to know….but did an excellent job scoring two superb goals……ok…..he scored two goals……which was superb Jonah……and stopped all the limelight being hogged by Ali! A great brace Jonah and now the expectation bar has been set you need to keep delivering…..of it with be right back for you!!!!
In sum, 5-2 win for the Rams and another superb result that sees us well placed to take on top of the league Intel next week! Training on Tuesday to hone your killer instincts….red meat all week and keep off the beer….at least till Saturday in the Crown and lets get another win!
Well done boys! See you on Tuesday.
Jon the absent [minded] lino