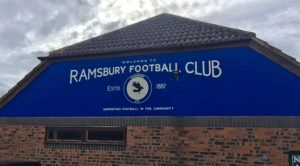 The score line would suggest that Marlborough completely bossed this game and that it was very one sided. Think again, Ramsbury were much the better team for long spells and without doubt played the better football for most of the game and on the day just did not have luck on their side!
Tough decision for Sean as to who he should start today as the pre-season games have all been really competitive and there has been a huge turn over of players since last season. He went with an attacking 3-5-2 formation with Proccy in goal; Mike, Chris (C) and Leigh at the back; Ads and Rob on the flanks and Charlie, Will and Pricey in the middle with Kav and Ali up front. We are allowed 5 subs and they were Max, Zac, Skips, James and Jonah. Strong bunch on the bench and all got game time.
The formation worked well and Ramsbury played good attacking football and had a goal early on, but for some reason the ref did not award it and instead gave Marlborough a free kick! Unfortunately, Marlborough then applied some pressure and put in a good ball which saw Chris leap like a gazelle (first and only time he will be likened to a gazelle) and athletically (ok it wasn't that athletic) met the ball coming in with near perfect precision 9ok not that perfect either…) and clear the ball to safety……..ok that was me still dreaming of what should have happened……and (instead) he met the ball with near perfect precision and expertly guided it perfectly beyond Proccy and into his own net for an own goal. 1-0 to Marlborough! SoS to big Chris!
Ramsbury upped the tempo and the agro, as it was the usually feisty derby affair, and that beast Ads was far too overly aggressive on the poor timid Marlborough player and went straight into the book and received a yellow card! The ref was kept busy throughout the match as it was a lively one and a near capacity crowd at the Ramsbury Rec were treated to some top wrestle mania and UFC as the game fought its way to 1-0 at half time. All still to play for.
The second half saw Ramsbury dominate early on but only for Marlborough to unexpectantly grab a second goal on their only attacjk and go 2-0 up after stretching the defence and getting a bit of luck. What was great to see was Ramsbury responded well and played some brilliant football and that the tempo and quality stayed the same as Sean brought on the subs on a hotter than expected day.
At 2-0 Ramsbury went oh so close with a great run and a wicked shot by Zac that the keeper somehow scooped away and then Rob hit an absolute thunderbolt that we all thought had gone in but had actually missed by about an inch or two. If Ramsbury had scored these the game was there to be won. But even with all their second half dominance Ramsbury unluckily conceded an third through a speculative shot to make it 3-0. This was a shame as Max, Zac, Jonah, James and Skips all came on and added great value and gave Ads, Kav, Ali, Pricey and Will deserved rests whilst avoiding second Yellows for Ads and for Pricey who had made his customary enthusiastic welcome to Priceyworld well timed tackle that clearly got the ball but took a good portion of the player as well…..it was harsh Pricey….and in the 1970s that would have been a soft one!!
Despite a late bad tackle that was a certain Red for Marlborough, as their last defender hacked down Charlie when clear on goal, the game ended 3-0 and a bit frustrating for Ramsbury as they deserved at least 2 if not more goals in this highly entertaining first game of the season.
Shirt of Shame went to Chris the gazelle Roberts for his own goal and man of the match went to Will for his midfield general display that deserved to get a win from this match. But that's football and we shake it off, pay our fines and subs, train again on Tuesday and look forward to doing better in our next match away next Saturday!
Well done to all the support and heads up boys as this was a good effort! See you Tuesday.
Jon