Ramsbury FC lost 3-0 to Highworth Res of the Premier League today in a fiesty cup match at Hilldrop Lane.
The score line did not reflect the game as Ramsbury were much the better team and the opposition were gifted two goals through some unusual keeping errors by Freddie who gave no Sean no choice but to award him the Shirt of Shame!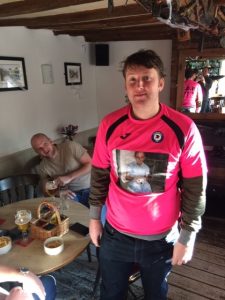 Don't worry Freddie you are in good company and it was so nearly Browner for his WWE flying head tackle that the half asleep lino managed to not see……good job it was Sean!!!! If not, then it could have been a Red and you would have been joining Ali on the naughty step!
Gareth wasn't the only Yellow card offender today as Highworth had obviously had a bad Friday night out and were full of aggro from the outset and received 2 Yellows as well and forced their coach to sub them both as they were Reds waiting to be issued! The game was full on with Ramsbury having much the better game but against the run of play Highworth outwitted Stoner at right back and nipped in for an easy tap in. Freddie then gifted them a second with an early Christmas panto ITS MINE….oh no its not…and the half ended 2-0. A really cynical half of football where both teams lacked discipline and the difference was a slice of good fortune to see Highworth lead.
The second half was all Ramsbury, and I mean camped in the opposition half for 45 minutes all Ramsbury, but Highworth still managed to sneak in a really weak shot past Freddie (I am sure you betted against us Fred?) to make it 3-0. This was a real shame as Ramsbury had dominated and Leigh, Tom and Macca in the centre of midfield were awesome with the Leigh like a beserking druid on blue smarties earning Man of the Match for his ouststanding running, tackling and swearing in fluent welshness! Harry had another great game at left back and Adam and Zac were constant threats on either flank and deserved a goal apiece; Max was the sole striker and was superb and Ali…..your spot up front is seriously under threat! Browner was the epitomy of restraint in the second half…ok I lie…he was just more subtle and alongside Chris was solid in defence. Neymar came on for Stoner and Sean sent him up front and played 3 at the back; it was a bold move and I am still not sure how Ramsbury did not score as Highworth were pegged back into their half throughout. However, it ended 3-0 and Highworth progress, but if Ramsbury play like the second half, keep their discipline better and keep their heads, then I can see them getting much better results.
Next week Abbbeymeads AWAY….lets get a deserved win!
See you all at training Tuesday.
Jon